Based on tutorial by XRAY
I'll show you how to make the hd menumap's like BF2 Map's menumap that looks like this: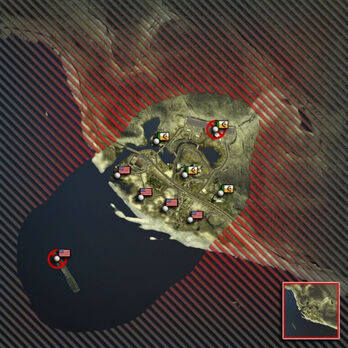 This tutorial assumes that you have already generated a final minimap, and added combat area(s) to your map with the BF2 editor.
First off, load your map in 1024x768 settings or another 4:3 (non-widescreen) format resolution. Spawn, and press "M" to bring up your minimap. Take a screenshot and close the game.
Load up your screenshot and cut out along the edges of the map, so you end up with a square (square, not rectangle) with your minimap with the ingame red bars.
Now, load up the file "Loadmap.psd" and paste in the cut-out map you just generated on a new layer. Put that layer lowest. Now, unlock the "Red bars"-layer, and set it to about 50% opacity. 
Use a selection tool (i prefer the lasso tool or magnetic lasso) and on the cut-out map, you select the area with no stripes. Select the Red bars layer, and press delete. 
Now, you should have a good-looking hole in the red stripes that matches the map.Its time to add the real minimap. Start by resizing it to 1024x1024, and place it on both layers named: "Paste your 1024x1024 minimap to this layer". Make the top one invisible. The bottom one should now fit with the hole in the bars.
Now open up the "Icons.psd"-file. Copy each layer needed onto your loadmap, and place them where they are supposed to be.
To generate the little map in the bottom-right corner, set the upper minimap you made invisible to 16% of its original size (1024x1024) and place it via transform tools at 904 px from top and left.You're all set. 
Save your loadmap as dds or png and put it in your maps info folder.
NOTE: All files must have a png ending, even if they are dds.
Community content is available under
CC-BY-SA
unless otherwise noted.